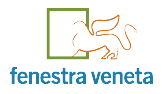 The consortium Fenestra Veneta was set up on 2010 on the initiative of Confartigianato Veneto (regional federation of craftsmen), Geronazzo and nine other handicraft firms producing wooden doors and windows.
The main objective of the consortium is to promote wooden doors, windows and shutters marked "Fenestra Veneta", which intends to enhance the distinctive values of handcrafted products to compete in any market and appeal to meticulous and demanding consumers. "Fenestra Veneta", therefore, is the result of an aggregating process among some handicraft companies in the Veneto region producing wooden doors and windows and whose purpose is the implementation of a highly innovative project both in strategic and organizational terms.
The promoting companies have always expressed the need to reposition their own firm in the traditional market. Starting up a project aimed at accomplishing growth both in terms of size and quality (favoured by strategic alliances with other realities operating in the same sector and by their collaboration at technical, production and commercial level) is therefore the best answer to this need. Hence the objective of "Fenestra Veneta": to promote the existence of each business identity while further enhancing it through the consortium for the development of common projects and the concentration of resources.
more information www.consorziofenestraveneta.it